Scrolling the day away...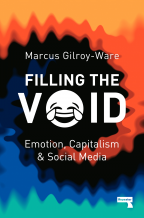 Why is everyone staring at their phones on the train? Why do online videos of kittens get so many views? Why is the internet full of misinformation? Why are depression and anxiety amongst the most treated health conditions? This book answers these questions with a series of powerful arguments about the age in which we live.
As the planet gets hotter and politics gets weirder, one of the best ways to observe how strange life on Earth is becoming is by looking at social media. Platforms such as Facebook and Instagram have come to be an integral part of the lives of billions of people across the world. But are they simply another source of information and entertainment, or a far more ominous symptom of capitalism's excesses?
Written by Marcus Gilroy-Ware, this book is an essential enquiry into why we really use social media, and what this means for our understanding of culture, politics and capitalism itself.
Read more about the book's five chapters here.
Published April 20th, 2017 by Repeater Books
Order now: Hive (UK) | Indiebound (USA)
Contact: contact@mjgw.com